HD661 - SUPERLUX PRO MONITORING HEADPHONES
The HD661 is a closed-back, circumaural headphone which is excellent for live sound monitoring application because of its sound profile of depth of sound field. It's also suitable for studio and broadcast. Although suitable for a very wide range of applications, the exceptional attenuation of the external noise of the HD 661 makes it particularly useful for use in a high noise environment.

The balanced, high definition and clear sound of the HD661 assure that a professional sound engineer can have full confidence when recording or monitoring. Its patented sturdy headband structure provides long-lasting durability even in challenging conditions, yet its lightweight and optimized mechanical pressure provide long-term wearing comfort.
• The exceptional design of depth of sound field and excellent for live sound monitoring application
• Dynamic, closed-back circumaural headphones
• High noise attenuation
• Ø40mm high-resolution drivers
• Precision-tuned acoustic chamber
• Patented self-adjusting headband for great fit and maximum comfort
• Rotating earpad construction for convenient single-ear monitoring
• Detachable, single-sided cable
• Lightweight


Both the HD661 and MDR-7506 have a similar frequency curve. The HD661 delivers a wide dynamic range and high-resolution sound, presenting the crystal clear audio details demanded by professional users.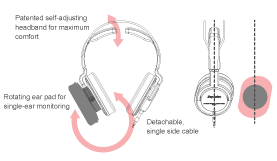 Type: Dynamic, closed-back
Driver: Ø40 mm, neodymium
Sensitivity: 102 dB SPL (1 mW)
Frequency Response: 10-20,000 Hz
Max. Input Power: 200 mW
Rated Impedance: 68 Ω (Copper-coated aluminum wire)
Ear Pads: Leatherette
Cables: 1-meter (3.3 ft.) & 3-meter (9.8ft.) straight ,single-sided;plugin cable on headphones (mini stereo connector)
Connector: Gold plated stereo mini plug
Headphone Caliper Pressure: Approx. 4.5 N
Net Weight: (without cable) 190 g (6.7 oz)
Accessories Included:
1-meter (3') strai

model NO.FD1YW

3-meter (9.8') straight cable

model NO.FD3YW

Soft carrying pouch

Cable clip

3.5/6.3mm (1/8" to 1/4") gold-plated stereo adapter