Superlux HD668B Professional Studio Standard Monitoring Headphone
The HD668B is a semi-open dynamic headphone whose sound quality meets the demands of even professional recording studios. The balanced and high definition sound of the HD668B assures that a professional sound engineer can have full confidence when mixing down or during post-production. Its patented sturdy headband structure provides long-lasting durability even in challenging conditions, yet its lightweight and optimized mechanical pressure provide long-term wearing comfort.
The HD668B comes equipped with 2 detachable straight cables. The short cable is 1-meter long for personal sound source on-the-move applications and the long cable is 3-meter long for professional monitoring applications. These cables can be connected together for even more distance if desired. Included cable clip can secure detachable cable from pulling out by accidental.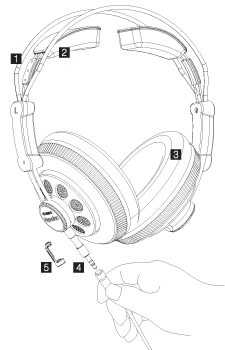 1. Patented durable structure.
2. Comfortable, self-adjusting headband pads.
3. Comfortable, long-lasting ear pads.
4. Detachable, single side cable.
5. Cable clip included Professional monitoring headphones.
• High-resolution drivers
•Precision-tuned acoustic chamber
• Optimized headband pressure
• Light weight
Applications:
Studio

Frequency Response:



Both the HD668B and DT990 have a similar frequency curve. The HD668B delivers a natural and excellently balanced sound, presenting the crystal clarity and high resolution demanded by professional users.
*FR charts shown above are test results determined by China Standard IEC318 ear simulation.
Type: Dynamic, semi-open
Driver: Ø50 mm, neodymium
Sensitivity: 98 dB SPL (1 mW)
Frequency Response: 10-30,000 Hz
Max. Input Power: 300 mW
Rated Impedance: 56 Ω (Copper-coated aluminum wire)
Ear Pads: Leatherette
Cables: 1-meter (3.3 ft.) & 3-meter (9.8 ft.) straight, single-sided;
plug-in cable on headphones (mini stereo connector)
Connector: Gold plated stereo mini plug
Headphone Caliper Pressure: Approx. 3.5 N
Net Weight (without cable): 222 g (7.8 oz)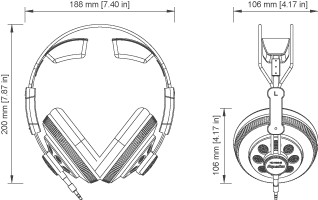 Accessories Included:
1-meter (3' ) straight cable
Model #: FD1YW

3-meter (9.8' ) straight cable
Model #: FD3YW

Cable clip

Soft carrying pouch

3.5 mm to 6.3 mm (1/8" to 1/4") gold-plated stereo adapter